Regular price
Sale price
€55,00 EUR
Unit price
per
Sale
Sold out
Delivery from May 13!
Description
- Ultra-practical unisex fanny pack for everyday use created in collaboration with the brand Perus
- Outer fabric: 70% recycled cotton, 30% Lenzing Ecovero
- Lining: 100% upcycled cotton
- Finishes & embossing in 100% vegan leather
- Silver finish metal zipper
- Binette XL format: Dimensions: L27 x H17 cm
- Ecru strap, minimum strap circumference: 56 cm, maximum strap circumference: 96 cm
- Made locally
- For each Binette purchased, a school day is funded for a disadvantaged child 🎓
- For each Binette purchased, small seeds are to be planted 🌱
Infos pratiques

- Tissu extérieur : 70 % coton recyclé, 30% Lenzing Ecovero
- Doublure : coton 100 % upcyclé
- Finitions & embossage en cuir 100 % végan
- Fermeture éclair en métal finition argent
- Format Binette XL: Dimensions : L27 x H17 cm, zip de 35 centimètres
- Sangle écrue, tour de sangle minimum : 56 cm, tour de sangle maximum : 96 cm
Entretien

Les sacs banane Binette passent tous à la machine à laver. Nous recommandons un lavage à 30°. Utiliser du savon de Marseille et frotter localement pour les tâches les plus coriaces.
Partager
View full details
Une production locale et pensée pour durer

Nous produisons à Sahline en Tunisie dans un atelier fort de 30 ans d'expertise, spécialiste de la fabrication de vêtements et d'accessoires. Notre atelier est en adéquation avec notre démarche écologique et est membre de l'initiative "Fashion Révolution Tunisia" qui œuvre pour une mode durable. Les produits sont acheminés en bateau depuis la Tunisie. 

Pourquoi cet atelier ? Car ils fabriquent des produits de très bonne qualité et conçus pour durer.

En savoir plus sur la production

Des graines à planter et une journée d'école financée pour chaque commande !

Chez Binette, on souhaite participer à la végétalisation urbaine et on s'est permis de vous embarquer avec nous dans cette démarche. Vous trouverez dans chaque Binette des graines à semer sur votre balcon, dans votre jardin ou dans un espace public. Et comme nous sommes en collab avec Perus, on les suit dans leur démarche et on finance une journée d'école à l'association Los Chicos de Cusco pour chaque produit vendu !

En savoir plus sur les engagements de Perus

Lenzing Ecovero et cuir végan : l'innovation au cœur de notre démarche !

Le tissu extérieur est composé de 70% de coton recyclé et 30% de Lenzing Ecovero. L'Ecovero est une matière responsable fabriquée à partir de bois. C'est une bonne alternative au coton ou à la viscose, car la fabrication de ses fibres génère jusqu'à deux fois moins d'émissions et de consommation d'eau !

Pour cette deuxième collaboration avec Perus, nous avons choisi d'aller encore plus loin dans l'innovation en remplaçant le cuir upcyclé par du cuir vegan !

En savoir plus sur nos engagements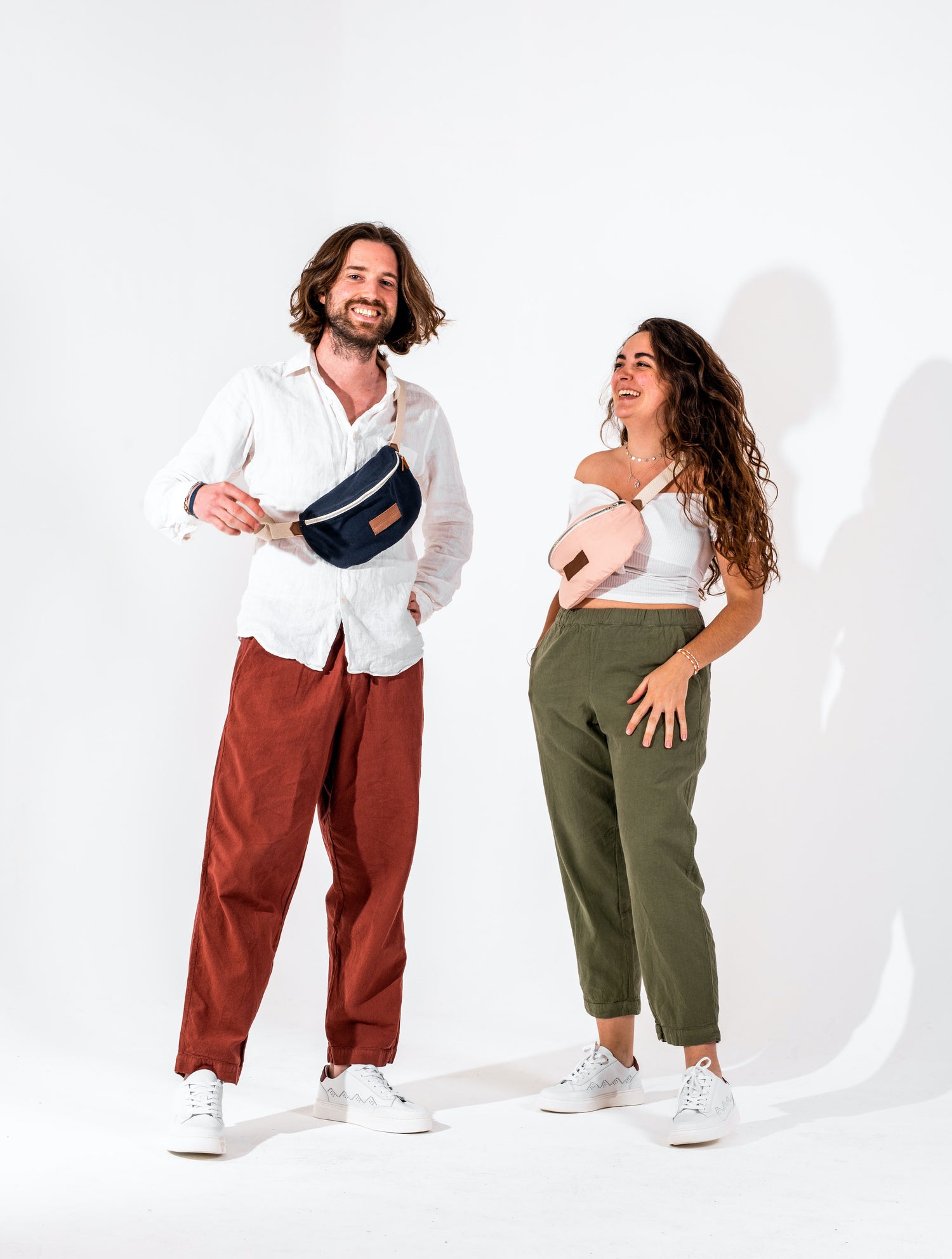 La collab de la bonne humeur ☀️
Nous nous sommes associés avec Perus, une marque de mode responsable inspirée par l'Amérique latine. On partage une valeur forte, celle du voyage et de la découverte 🌎 Et bien sûr, le même combat : celui d'instaurer une mode plus responsable 💪
On a pris les good vibes de Binette, on y a ajouté la Perus'touch : On a mixé le tout et travaillé sur le produit parfait, qui donne la banane, l'envie de croquer la vie à pleines dents ! 🤸‍♀️
Découvrir Perus
Become an ambassador 🫶
Welcome to the Binette ambassador program: sow your seed of madness, spread your good mood and be rewarded!